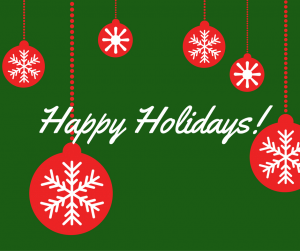 With Thanksgiving in the rear view mirror, it is officially the holiday season! This time of year is filled with bright lights, delicious treats (peppermint flavored everything), and gift exchanges with loved ones. No wonder this is considered the most wonderful time of the year!

If you have loved ones you are shopping for this holiday season and you aren't sure what to get them, don't panic! There is plenty of time left to find the perfect gifts before December 25. But, just in case, we are sharing with you a few of our favorite things to make your holiday shopping a breeze:
-Gift cards to Rollerland: Rollerland Skate Center is your one-stop-shop for family fun this holiday season (and all year round!). We offer gift cards to our rink and they can be applied towards admission, food, and parties! These make fantastic stocking stuffers or a great gift for under the tree. You can pick yours up at Rollerland (check out our address below) during our business hours.
-Roller skates and fun socks: We love a good pair of skates (obviously!), so consider giving your family or friends a fun pair of roller skates. Throw in some comfortable but fun socks for comfort! We can't think of a better way to break in those new skates than with a trip to Rollerland.
–Holiday parties: Nothing will get you in the holiday spirit more than a holiday party at Rollerland! Whether you are celebrating with co-worker or doing a friendly gift exchange, host your party at Rollerland – where the good times roll!
Rollerland Skate Center is located at 324 South Link Lane Fort Collins, CO 80524. Call us at 970-482-0497 to speak to one of our team members about our gift cards or to reserve your holiday party!