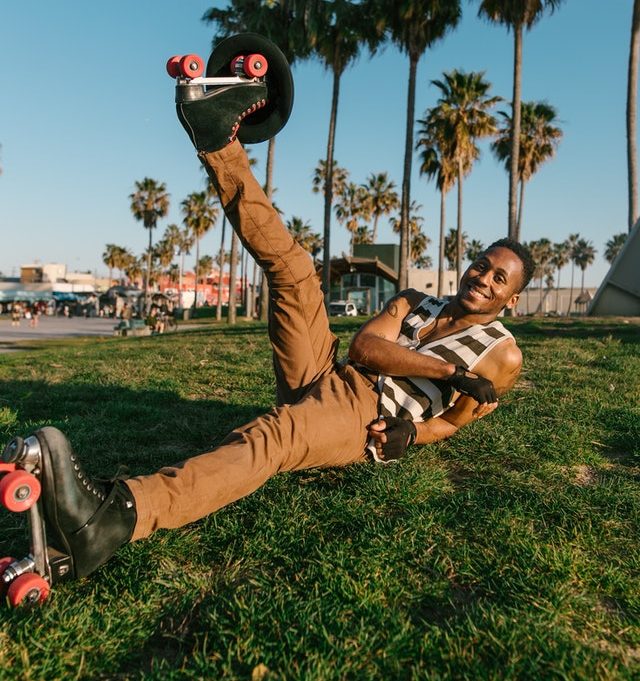 Have you ever heard the adage, "Safety first"? It's a good reminder to think through the safety angle of an activity before you start, and to make decisions with safety in mind as you go through your day. When it comes to roller skating, a "safety first" mindset is important. Skating is a great form of exercise (and tons of fun), but like any physical activity, you can get hurt if you don't follow safety guidelines. At Rollerland, we're all about helping people get in on the fun and fitness of skating, so check out these safety tips for roller skating!
Safe Skating Tips
Know Your Skating Rink Etiquette
Skating indoors at a skating rink like Rollerland is extra fun. In addition to the skating itself, there's music, cool lighting, and other skaters showing off their best moves! However, before you hit the rink, you should know some basic skating rink etiquette. 
Follow the flow of traffic. If everyone else is skating counterclockwise, you should too. 

Know the zones of the skating rink. Imagine the rink as concentric circles. The inner circle is where people are practicing skating, doing tricks, etc. The outer circles are like lanes of traffic, with people skating laps around the center. 

Don't just cut across all of the "lanes" from the outside to the center and vice versa. Go with the flow and slowly make your way where you want to go, rather than diving in front of people. Likewise, don't stop abruptly! It's a good way to get run into by another skater.

If you fall, get up quickly and safely. Try to avoid putting your hands down flat on the skating rink. Instead, put your palms on your thighs and push yourself up to your knees, then fully standing. 

If you're skating fast or trying a new trick, be mindful of the other people around you. Stay in control and watch out for other skaters. Keep an eye on kids or less-experienced skaters who may accidentally cross your path. 
Wear Protective Gear
It's never a bad idea to wear protective gear while skating, but if you're skating outdoors, it's even smarter. Gear up with elbow and knee pads, wrist guards, and a well-fitted helmet. You might even want to get some padded shorts. While they were initially created for cyclists, roller skaters have realized how great they are for preventing painful tailbone injuries. Look, you're going to fall on your butt eventually, so you might as well give it some extra padding!
Be Aware of Your Surroundings
Skating around your neighborhood or the park allows you to enjoy the beauty of nature, but you also need to think cautiously about where you skate. Avoid areas with high traffic, bumpy or uneven paving, and sharp drop offs. Always keep an eye on the weather and prepare appropriately with sunscreen, water, etc.