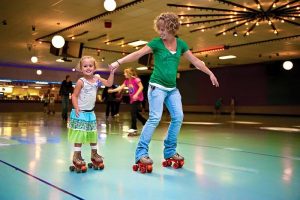 The month of September is World Literacy Month. By definition, literacy is the ability to read and write. The World Literacy Foundation estimates that 20% of the world's population is illiterate. The goal of Literacy Month is to help eradicate this figure by promoting literacy and education by providing learning resources and teaching materials.
World Literacy Month also coincides with the back to school season in Fort Collins.  Now that children are heading back to the classroom and learning the importance of reading and writing, consider encouraging their progress as a way to celebrate Literacy Month. For example, create a reading and writing rewards systems for your kiddos. Often times, incentivizing progress is a great way to motivate your child to achieve specific goals.
Here are 3 fun ways to reward your child's progress during Literacy Month or throughout the entire school year:
A day of roller skating: Did your child complete their reading list or ace their writing assignment? For each great mark they receive, or for a combination of great marks, reward them with a day at Rollerland Skate Center in Fort Collins, Colorado. They will enjoy a full day of rolling around on our rink to best tunes!
Extra tokens for the arcade: Rollerland is more than roller skating rink. We also have an incredible arcade featuring the best games filled with tons of entertainment. Reward your child with Rollerland tokens so they can take advantage of our arcade while visiting Rollerland!
A private party with friends: We know how to party at Rollerland, so consider throwing your kiddo a private party for a successful semester or school year! Invite your close family and friends and enjoy celebrating your child's progress!
Rollerland is located at 324 South Link Lane in Fort Collins, CO 80524. Give us a call at 970-482-0497 to learn more about our rink's attractions.